In this tutorial, we'll look at how to install IIS web server on Windows Server 2022.
It's no secret that these days, having a web server for publishing content is a basic need for any business. It could be a server for publishing content for potential customers or marketing tasks, a server dedicated to online sales, an internal server for documentation or general information, or pretty much any other kind of service supported by a web server.
Currently, there are countless server programs that can help you to provide these services. But in the case of Microsoft, we have the option to install the famous IIS (Internet Information Services), a web server service that you can also use for FTP, online content, etc.
Today, we'll explain how to configure one of these servers without getting into anything too complicated. We'll save that for future tutorials.
How to install ISS Web Server
Before you begin
To successfully complete this tutorial and install IIS Web Server, you will need:
Installing the IIS Web Server role
First, launch the Server Manager and click on "Manage > Add roles and features" (1).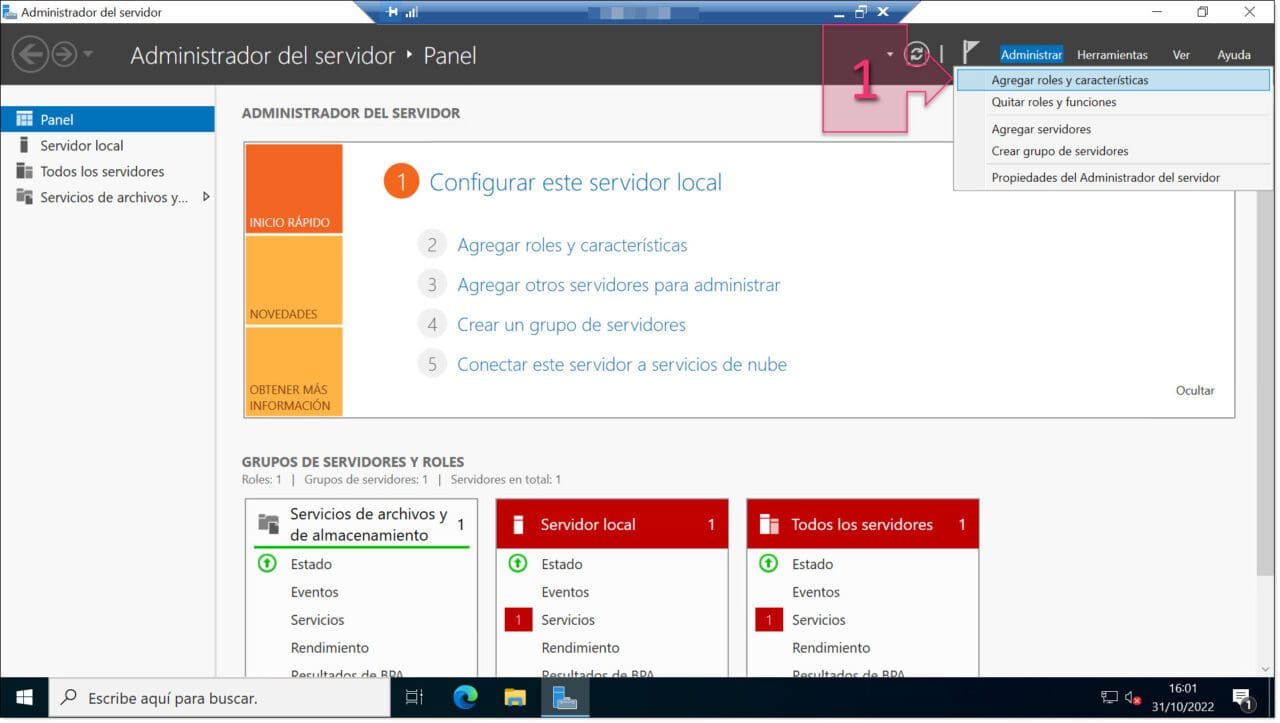 Launch Server Manager to add the IIS role
The window that appears will include a number of recommendations, which we always recommend checking before you continue.
Once you have reviewed these recommendations, click on "Next" (2).
Next, you need to select an Installation Type, where you have two options:
Role-based or feature-based installation if you are installing on a single server.
Remote Desktop Services installation if you are deploying on a VDI.
Select the first option (3) and click on "Next" (4).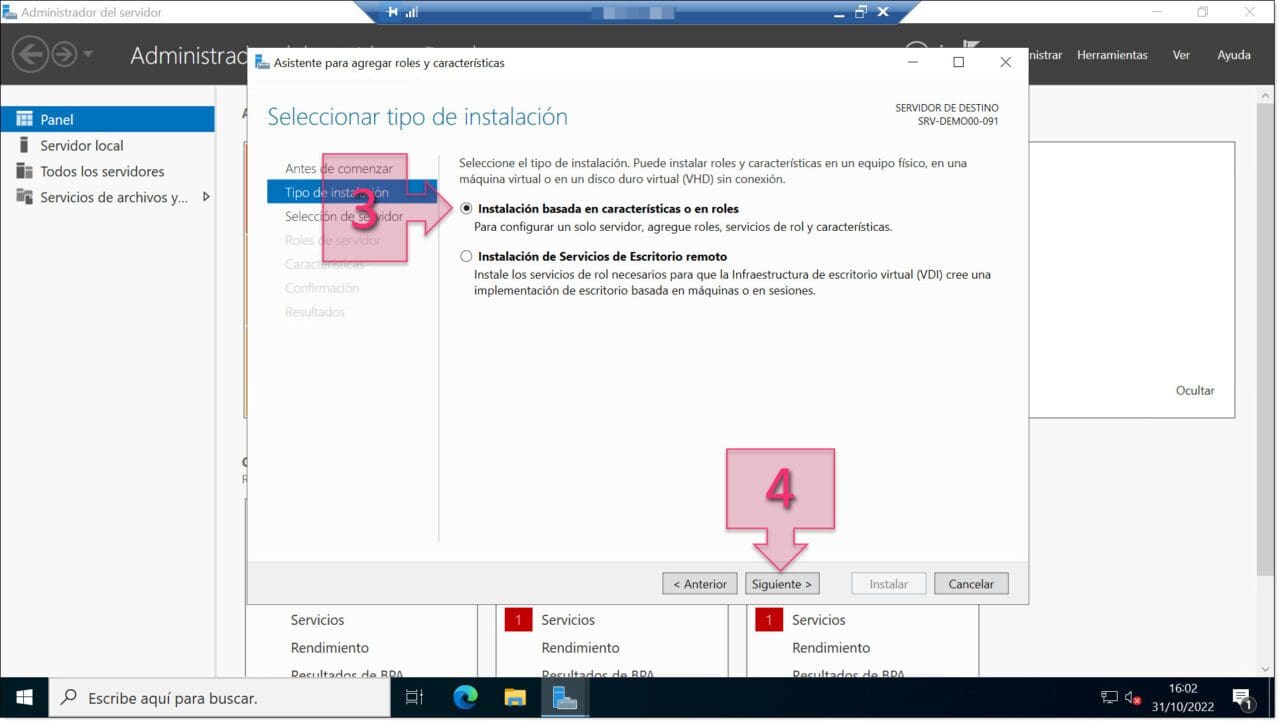 Then, you will need to specify a destination server. Choose "Select a server from the server pool" (5), then select the server that you want to install the role on (6) and then click on "Next" (7).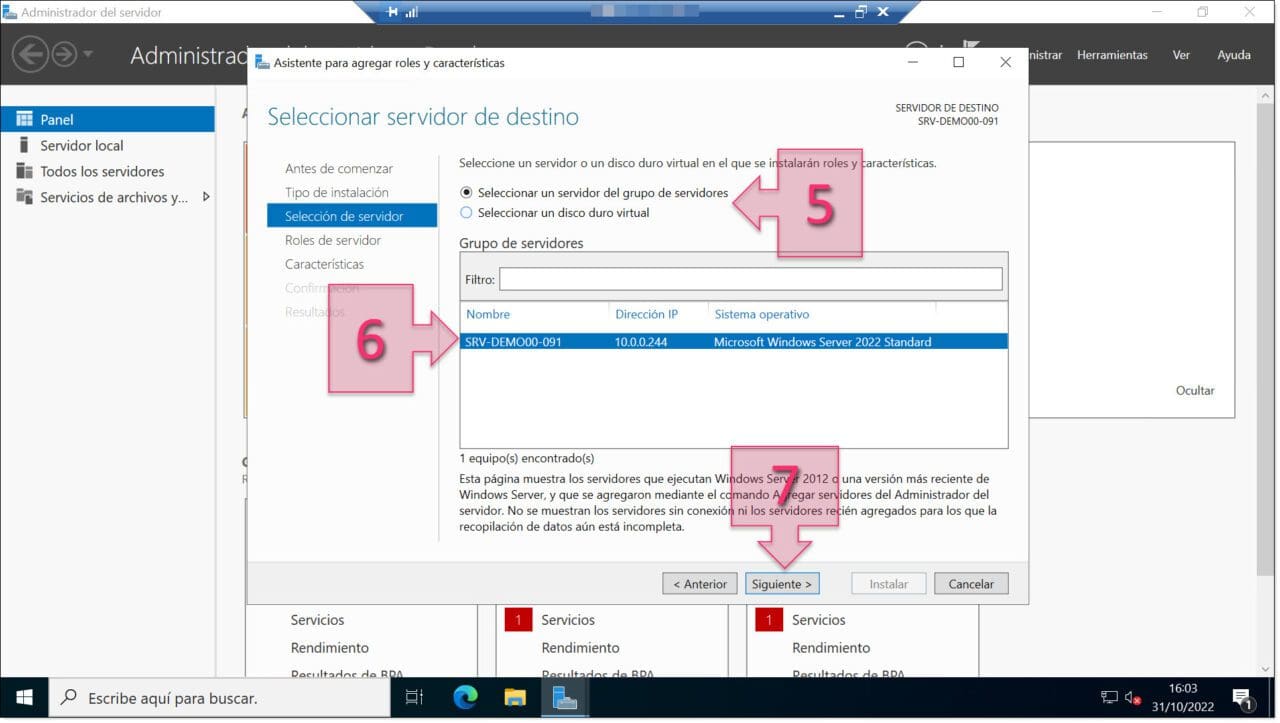 At this point, you need to select the server role that you want to install, IIS Web Server. Scroll down the list until you find "Web Server (IIS) and click on the checkbox (8). Then, the "Add Roles and Features Wizard" will appear. This window will ask whether you wish to add features that are required for the role and show the features in question below.
Leave the checkbox "Include management tools (if applicable)" ticked (9) and then click "Add Features" (10). Then, you'll be taken back to the previous window, where you should simply click on "Next" (11).
In the Features section, you don't need to do a thing unless you want to add something else as well. To continue, simply click on "Next" (12).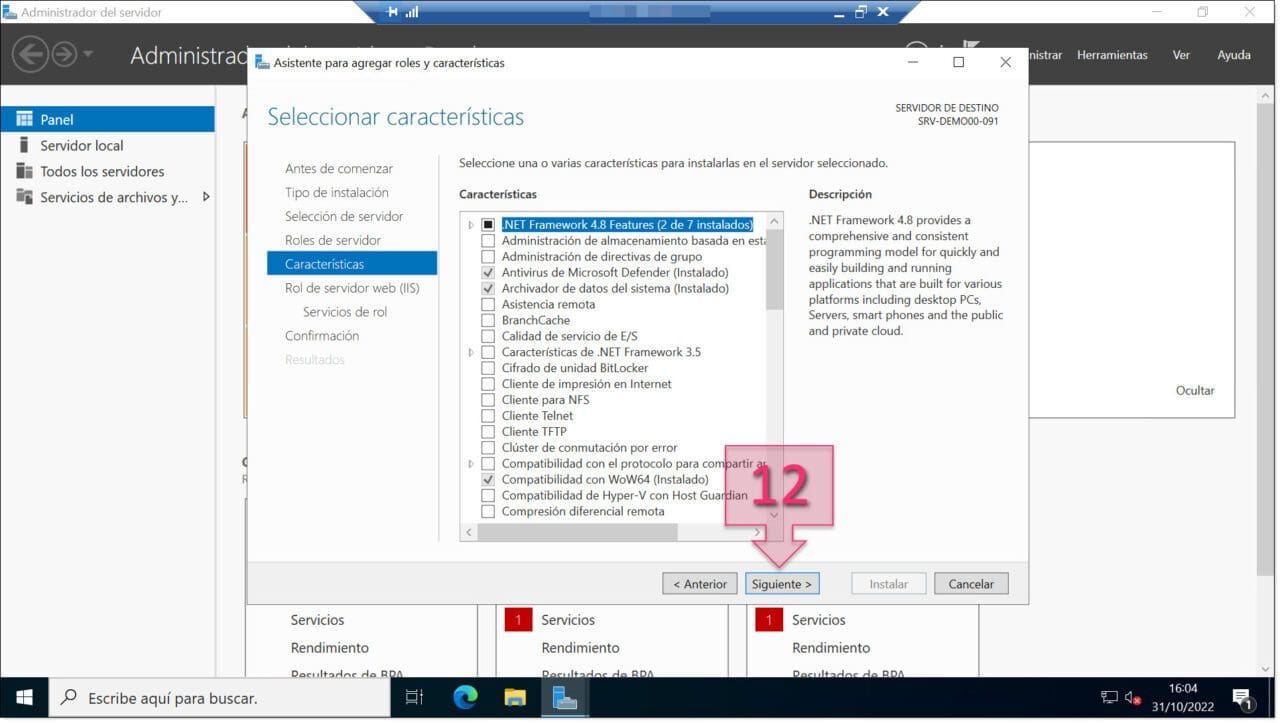 This brings us to the "Web Server Role IIS)" section, which will display some more additional information that we recommend reading in full (13). This window also has a link at the bottom taking you to "More information about Web Server (IIS)" (14). Once you've read everything you need to, click on "Next" (15).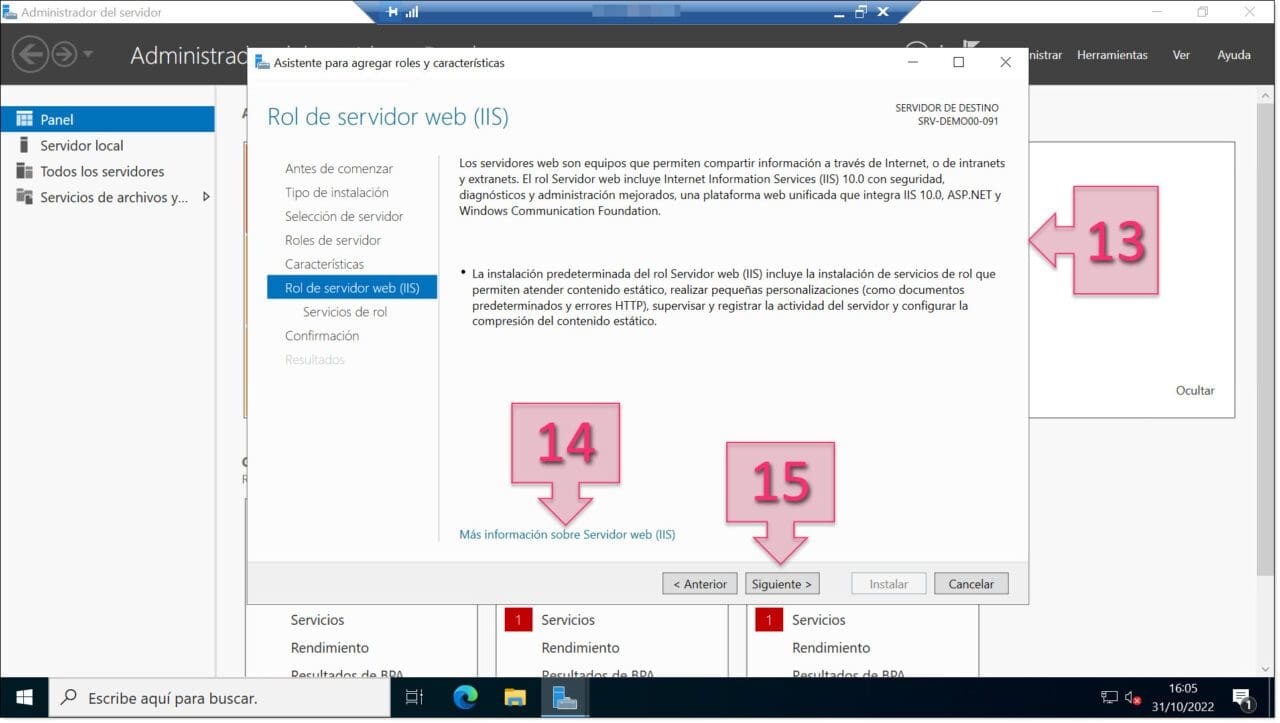 To finish the installation, you need to review the role services that you wish to add (16) and then click on "Next" (17).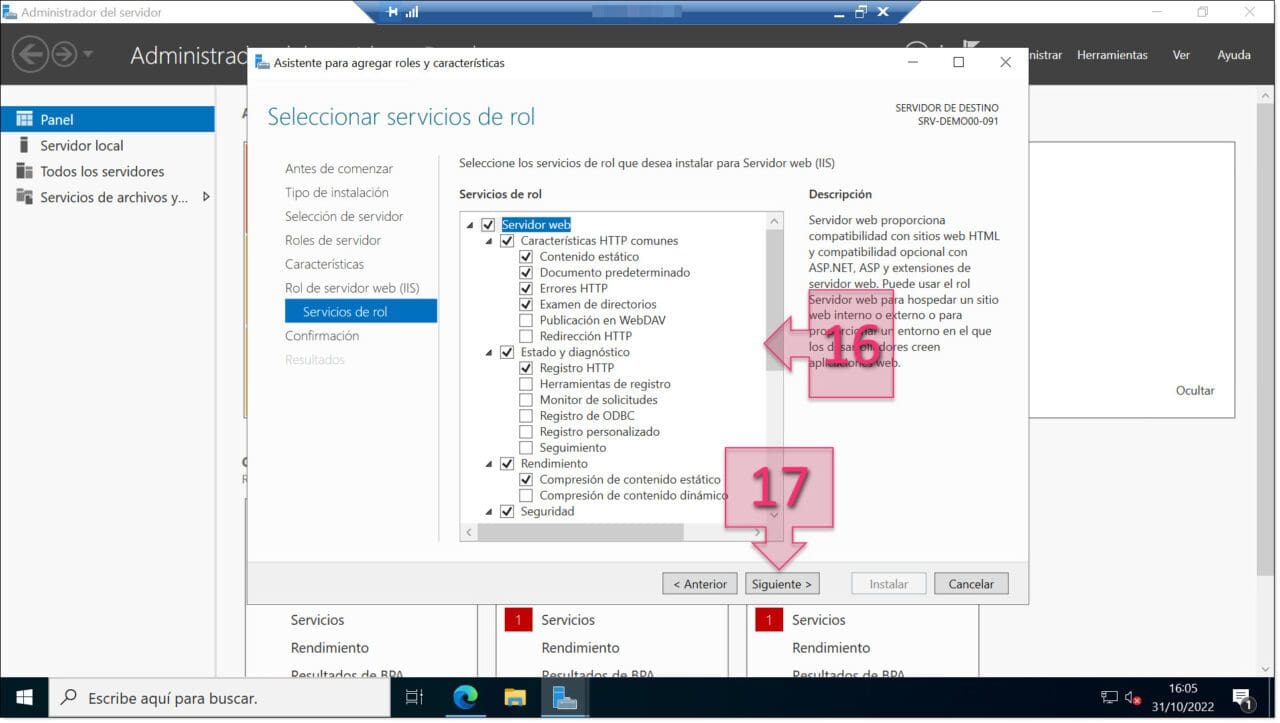 The last window is the "Confirm Installation Selections" section, where you have the option to "Restart the destination server automatically if required" (18). Personally, I'm not a fan of this option and prefer to keep control over the process.
This is a good time to check all your selections so far (19) in case you want to make any final changes. Once you're happy that everything is correct, click on "Install" (20).
The installation process will now begin and a progress bar will appear (21). When the installation has finished, simply click on "Close" (22).
If you close this window before the installation is complete, don't worry. You can re-open it simply by clicking on the alerts flag at the top of the Server Manager window (23), where you'll see details about the installation progress (24).
Once installed, IIS will appear in the left-hand menu in Server Manager (25).
Similarly, if you click on the "Tools" menu, you will now see the option "Internet Information Services (IIS) Manager" (26).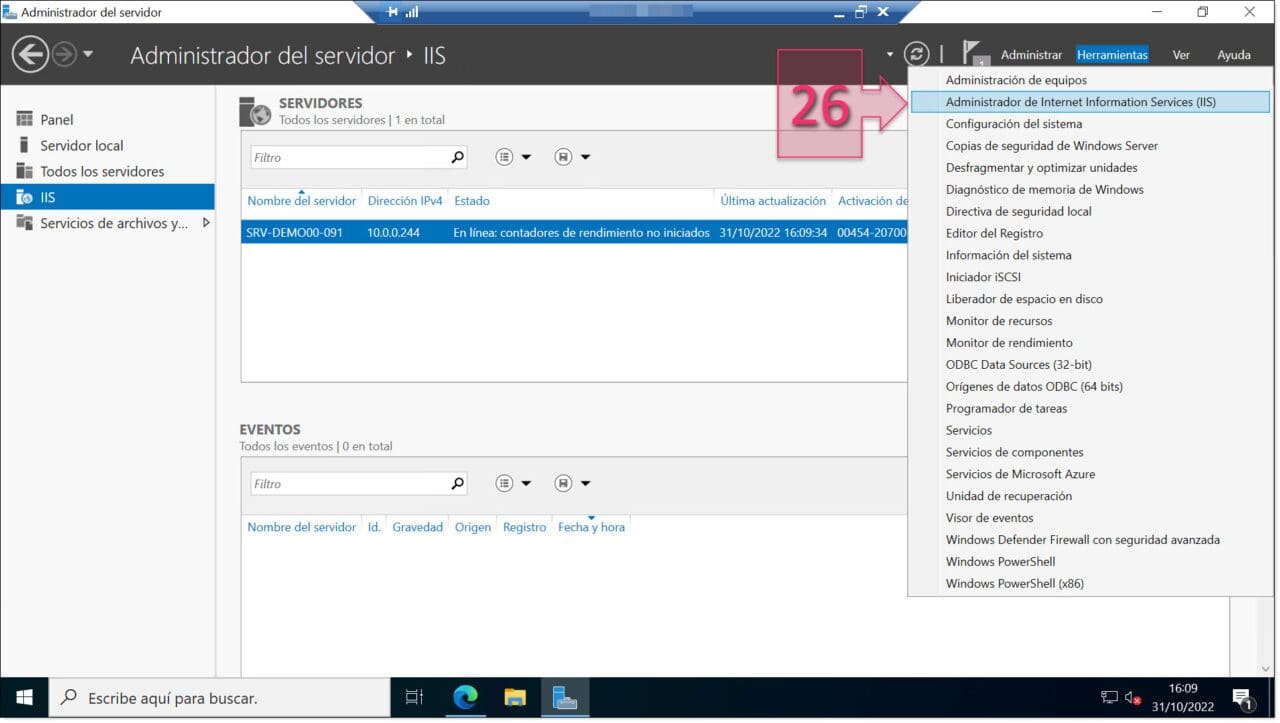 The final check will be to open a web browser and type "localhost" or "127.0.0.1" in the address bar. If you have done everything correctly, you should see a window like the one below, which is the IIS Web Server welcome screen.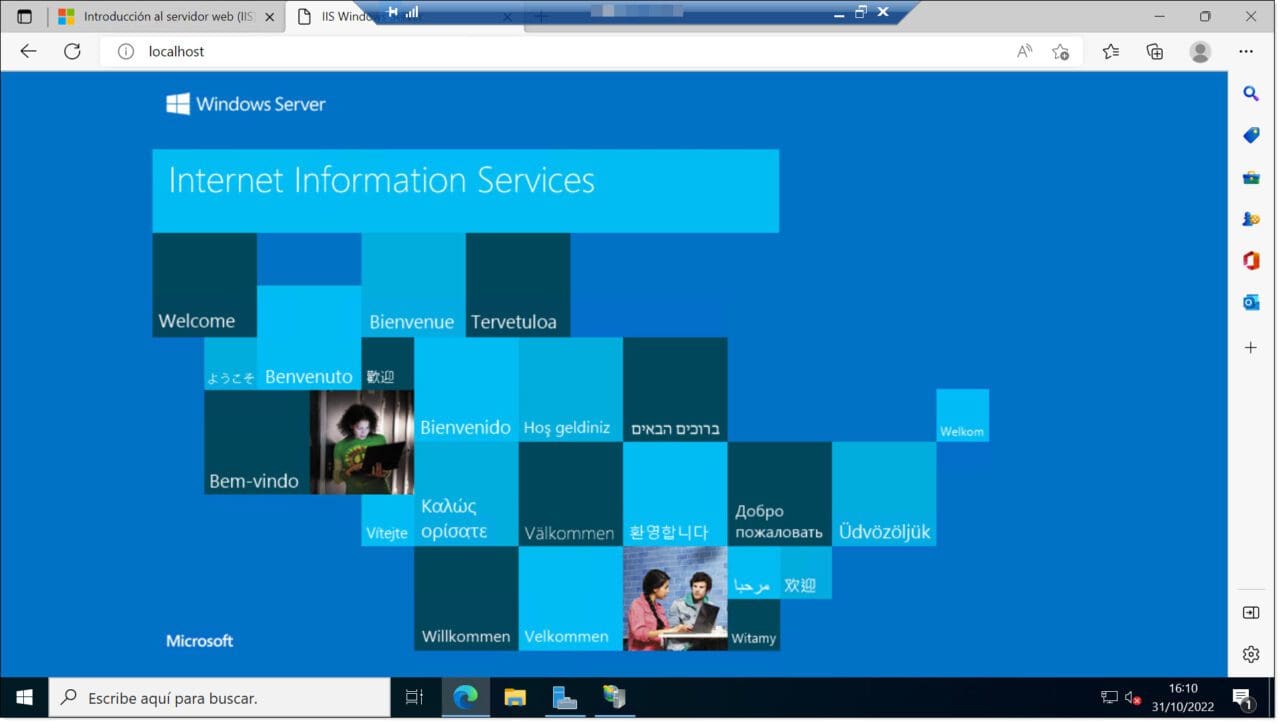 Your web server is now up and running and you can begin using it as you wish.
Conclusion
In this tutorial, we've explained how to install IIS Web Server by installing a new role on Windows Server 2022. However, this process is also valid for Windows Server 2016 or 2019. As you can see, it's a very straightforward procedure.
We hope that you don't have any problems following this simple guide, but if you do come up against any issues, don't hesitate to contact us so we can help you.
Thanks for choosing Jotelulu!